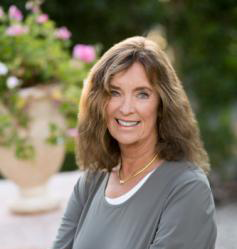 Susan Burns
From the minute you meet Susan Burns, you can feel her love for the community she has lived in since her days as a graduate student at the University of California in Santa Barbara. With a Master's Degree in History, her 17 year teaching career spanned time working on innovative curriculum as a teacher of History and English in public and private schools and as an Instructor at Honolulu Community College and at the University of Hawaii where she taught Introductory American History courses. She is most proud of the students she worked with locally at Dos Pueblos High School and at the acclaimed Cate School, many of whom have gone on to become respected leaders in business, the arts, and education throughout the greater Santa Barbara area.
Susan used her knowledge, organizational skills and expertise developed over these years as a teacher and administrator in her subsequent 35 year career as a successful real estate professional. The same love of people, their needs, and the desire to share the beauty of this town with those new to the area allowed Susan to excel in a business which demands that agents understand the market and skillfully handle complex negotiations for the purchase or sale of a property. There is a sometimes a myopic focus on the "sales" aspect in the real estate business. In contrast, Susan's goal has always been to understand each Buyer's "must have" list for a new home while providing specific details about the market value for a specific property based on its location, views, size, amenities, architecture, and features of the neighborhood.
With the purchase or sale of a home being one of the most critical decisions anyone ever makes, Susan is determined to not overlook any detail that should be discussed with a client. That one trait has led to numerous referrals over the years from clients who worked with Susan and were happy with the guidance and advice they were given. These clients have referred Susan to their families and friends who all receive the same kind of informed advice or answers to questions they may have about our community in general. Susan has never wavered in staying focused on any request or small detail until the job is done...and done right!
Susan has received recognition and annual awards from Coldwell Banker Previews International as well as the Wall Street Journal for sales performance and her consistent exemplary advertising done on behalf of her clients. She also earned the designation of "Architectural Division Director" by Coldwell Banker's Western Division as a result of her keen interest and knowledge of design elements in both the landscape and architecture featured in so many estates in this seaside community. As a result of her passion for authentic architecture, many of Susan's listings and homes she sold were admired estates of diverse styles: George Washington Smith's Spanish Colonial Revival style homes, the eye catching Mediterranean estates that seem to capture the spirit of the Santa Barbara lifestyle in our coastal enclave, one-of-a- kind stone mansions presenting an Old World ambiance in fields of native oak and olive trees, Craftsman style homes set in beautiful gardens, dramatic ocean view contemporary homes which showcase our "indoor/outdoor lifestyle", and the small charming English garden cottages designed by the Moody Sisters. Susan's love of design and the arts has been enriched by Santa Barbara's cultural diversity, the presence of UCSB and its active music, dance, art, and lecture series as well as the richness of our Santa Barbara Symphony, theatre groups like the Ensemble Theatre and the highly regarded summer music program of the Music Academy of the West in Montecito's seaside neighborhood near the Four Seasons Biltmore.
In the past several years, Susan has worked with Dana Zertuche and Lori Bowles under the team name, Susan Burns Associates. During that time, they combined their talents and similar dedication to making any transaction go smoothly for the many clients who purchased or sold magnificent estates, vintage homes, garden cottages, condos, or delightfully small Italian villas. You can find all three agents at their private Coldwell Banker Global Luxury office located at 1286 Coast Village Road in Montecito where they are available for consultation. Susan can be reached quickly on her cell (805-886-8822) or office line (805-565-8822) or via e-mail (susan@susanburns.com). Dana and Lori are now doing business as Montecito Associates. They can be contacted via their contact information on their Website (www.Montecito.Associates) and continue to exemplify the best service a real estate professional can provide to both Buyers and Sellers.
We have easy access to the marketing skills of recognized graphic artists, social media experts and the assets of Coldwell Banker Real Estate with its impressive global presence. With 3,000 offices spanning 47 countries and territories worldwide used by 92,000 sales associates, and an impressive 2017 sales volume amounting to $242.6 billion, clients of Coldwell Banker Global Luxury benefit by the strength in the vast marketing exposure of their properties and the inventory of agents around the world which can easily be searched online.
We are proud of the work we have done in our community and happy with the caring expertise we have provided on behalf of our clients. You are welcome to visit Susan OR Montecito Associates, Dana and Lori, in their wonderfully private Coldwell Banker Global Luxury office to discuss any real estate questions or concerns you may have with assurance these conversations will always be confidential.